This easy French bread pizza recipe has gooey mozzarella cheese, spicy pepperoni, and fresh green peppers over a deliciously crusty Italian bread.
Make it with our homemade pizza sauce for an even fresher, richer taste!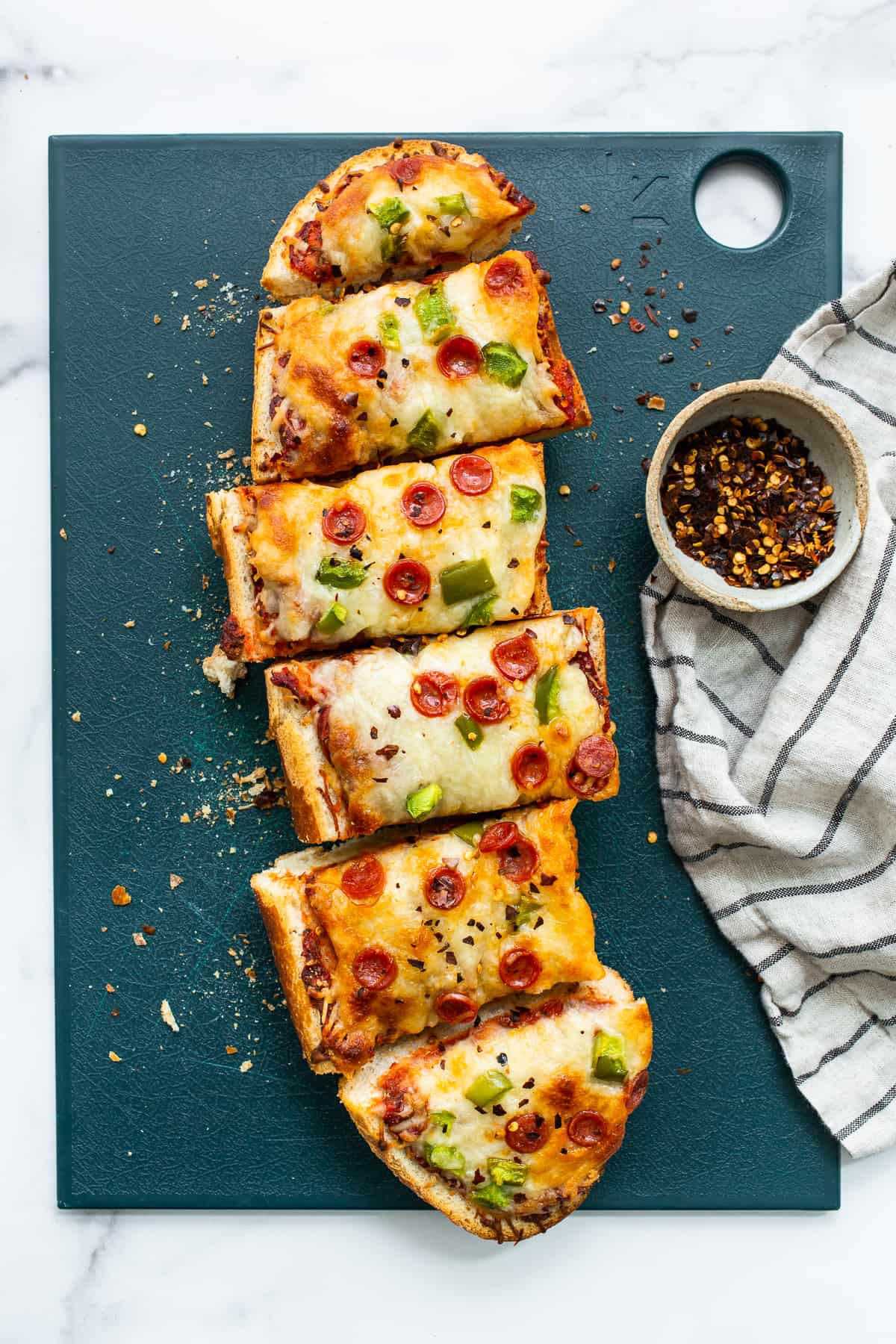 Cheesy French Bread Pizza
Why spend more on frozen French bread pizzas when you can make this homemade French bread pizza recipe — with a simple pizza sauce to boot? We topped our pizza with a combination of mozzarella and parmesan cheese, pepperoni, and green peppers, but you can personalize your pizza any way you wish!
Serve it on game nights, birthdays, or a busy weeknight with the family. You can never go wrong with yummy French bread pizza.
Why you'll love it!
The bread is baked to PERFECTION.
Green peppers add an extra layer of flavor.
It's a super easy recipe, making it a great option for when you want a quick, effortless dinner.
Made with ingredients you can easily find at the grocery store (or already at home)!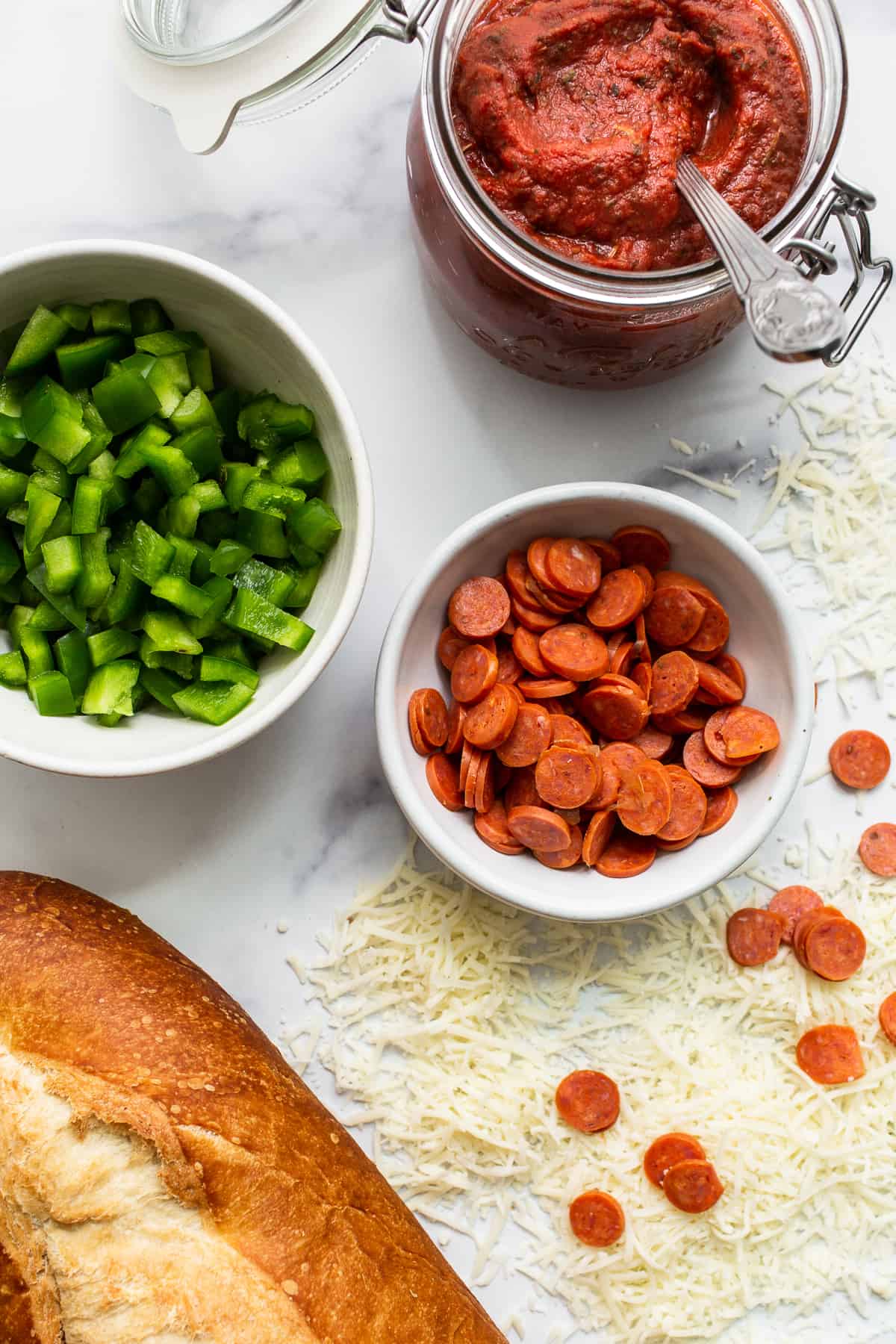 Featured Ingredients
Italian bread: we used an Italian loaf of bread, but you can use any baked loaf of bread other than a french baguette, as those tend to be a bit too skinny. 
Shredded pizza cheese mix: this shredded cheese mix gives you all the tasty, melty cheeses you need for the best cheesy pizza.
Mini pepperoni: normal-sized pepperoni works fine, but the mini pepperoni won't take up as much topping space on your pizza.
Green pepper: green peppers add a nice crunch and zingy flavor but are mild enough that they won't take away from the main attraction: the cheese, sauce, and crust!
Homemade pizza sauce: this delicious homemade pizza sauce is made from just 4 ingredients in 5 minutes. You'll love the flavor!
Introducing your new favorite pizza sauce! This homemade recipe is so simple and delicious, you'll never want to buy overpriced, store-bought pizza sauce again! You only need 4 basic ingredients to make it:
15 oz. can tomato sauce 
6 oz. tomato paste 
¼ cup Italian seasoning 
1 teaspoon sugar
Instructions
Add the tomato sauce, tomato paste, Italian seasoning, and sugar to a small saucepan and whisk to combine.
Bring the sauce to a gentle boil over medium/high heat. Reduce the heat to simmer for 5 minutes.
Remove from heat. Allow the sauce to cool before adding it to your pizza.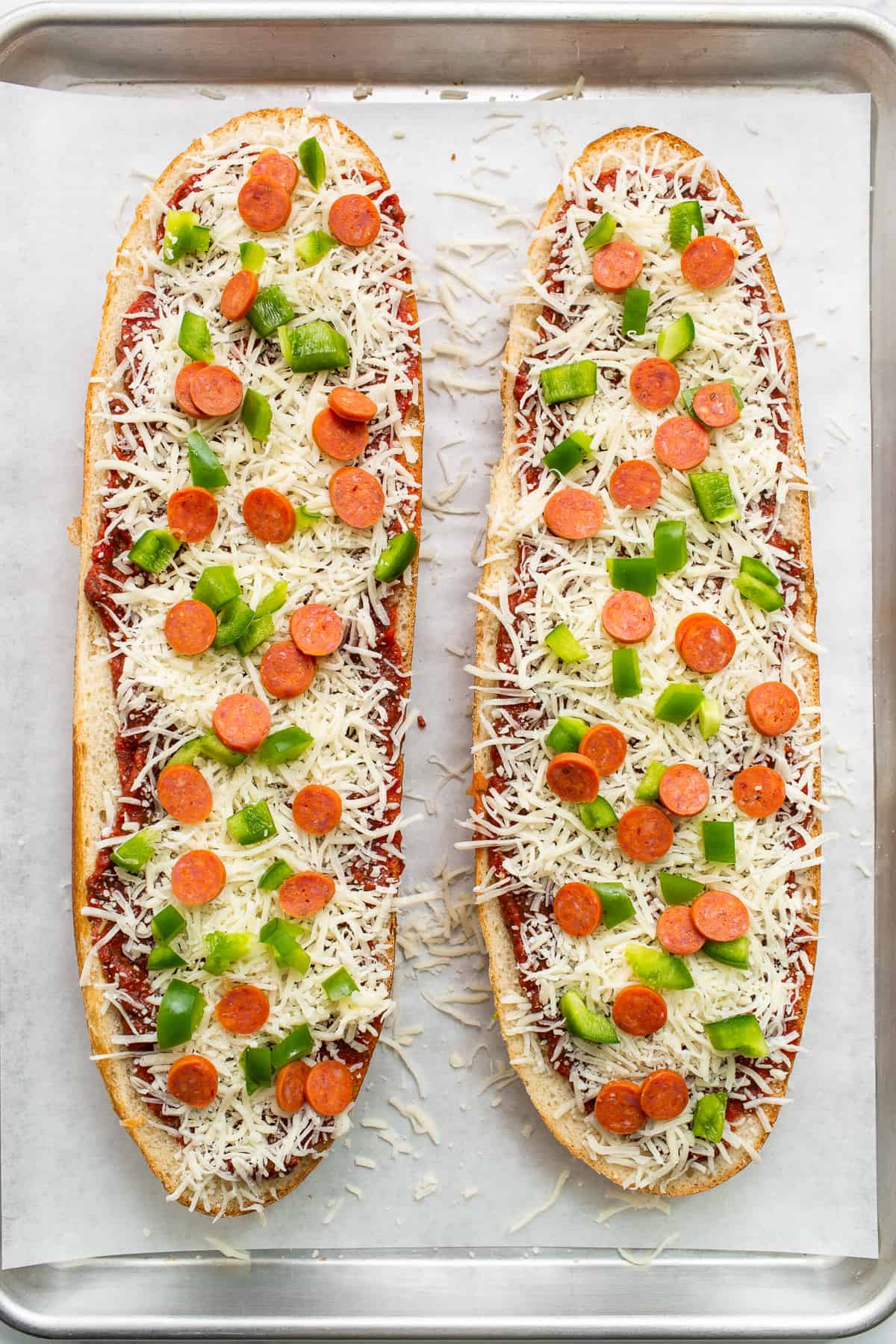 How to Make French Bread Pizza
PREHEAT OVEN
Preheat the oven to 375°F and line a baking sheet with parchment paper.
ASSEMBLE PIZZA
Place each half of the Italian bread crust-side down on the baking sheet. Then evenly spread ½ cup of pizza sauce over each half of the bread.
Next, sprinkle ½ cup of shredded cheese on top of the sauce. Then layer on ½ of the pepperoni, diced pepper, and top with the remaining cheese.
BAKE PIZZA
Place your French bread pizza in the oven and bake for 15 minutes. If the cheese has melted and the edges of the bread are golden brown, it's done! If not, bake for another 5 minutes.
SERVE + ENJOY!
Remove your pizza from the oven and allow it to cool for at least 5 minutes before serving.
Now it's time to chow down on your delicious pizza. Enjoy!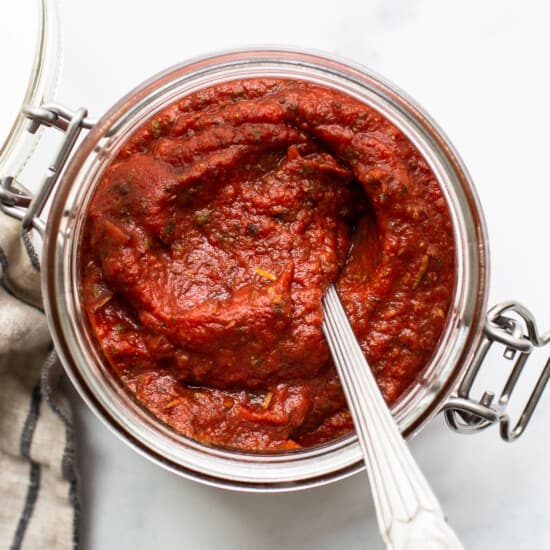 try it!
Homemade Pizza Sauce
Make a batch of our homemade pizza sauce to use on this French bread pizza. The whole family will love it!
get recipe
Tips and Tricks for the Perfect Crispy Crust
No one wants a French-bread pizza with a soggy crust! Here are a few pointers we've come up with after a bit of trial and error:
Before adding the sauce, layer a portion of your toppings on the French bread. This can be anything from cheese to pepperoni. Adding a barrier between the sauce and the bread will prevent your pizza bread from becoming soggy.
Lightly press down on (smush) the bread and pre-bake it a bit before adding the toppings. This will make the bread less absorbent to the sauce and create a perfectly crisp French bread.
A Delicious French Bread Pizza All Your Own
What's great about pizza is that you can personalize it however you wish! These French bread pizzas are perfect for a make-your-own pizza night where everyone can add their favorite toppings and enjoy their own tasty creations. 
Here are some great ideas to take your classic pepperoni pizza to a whole new level of flavor:
Sauce Variations
Marinara
Pesto
BBQ
Ranch
Alfredo
Buffalo
Balsamic Glaze
Topping Variations
Cheese: provolone, parmesan, romano, asiago, cheddar, feta, havarti, goat cheese
Meat: sausage, chicken, ham, bacon, prosciutto, roast beef, chorizo, steak
Veggies: mushrooms, bell peppers, banana peppers, peppercini, olives, spinach, onions, artichokes, jalapeños, sun-dried tomatoes, zucchini, herbs
Fruit: Pineapples, peaches, apricots, mangos, figs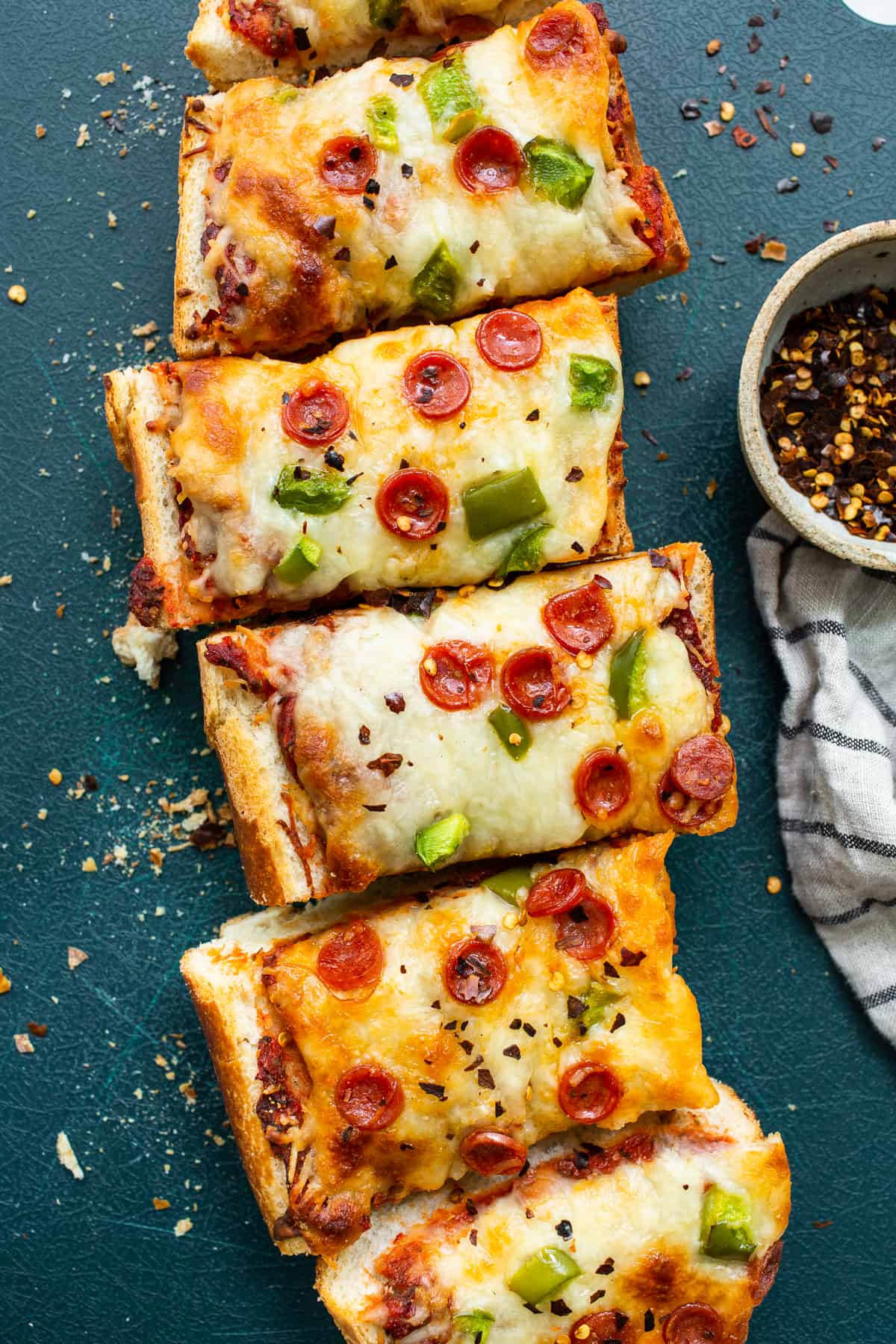 FAQs
What is French bread pizza made of?
French bread pizza utilizes store-bought French bread cut in half lengthwise as the crust. Top it with pizza sauce and all your favorite pizza toppings!
What makes French bread different?
French bread tends to be longer and narrower, making it a great crust option to share this French bread pizza with family and friends.
Storage
Let your pizza cool, then wrap it in plastic wrap, foil, or a large plastic bag and store it in the fridge for up to 3 days.
To reheat: we like to reheat our leftover pizza at 350ºF right on the oven grates for around 5 minutes or until hot.