This delicious homemade pizza sauce is so easy, you'll never want to buy store-bought again! With a 5-minute cook time and just 4 basic ingredients, you simply can't go wrong.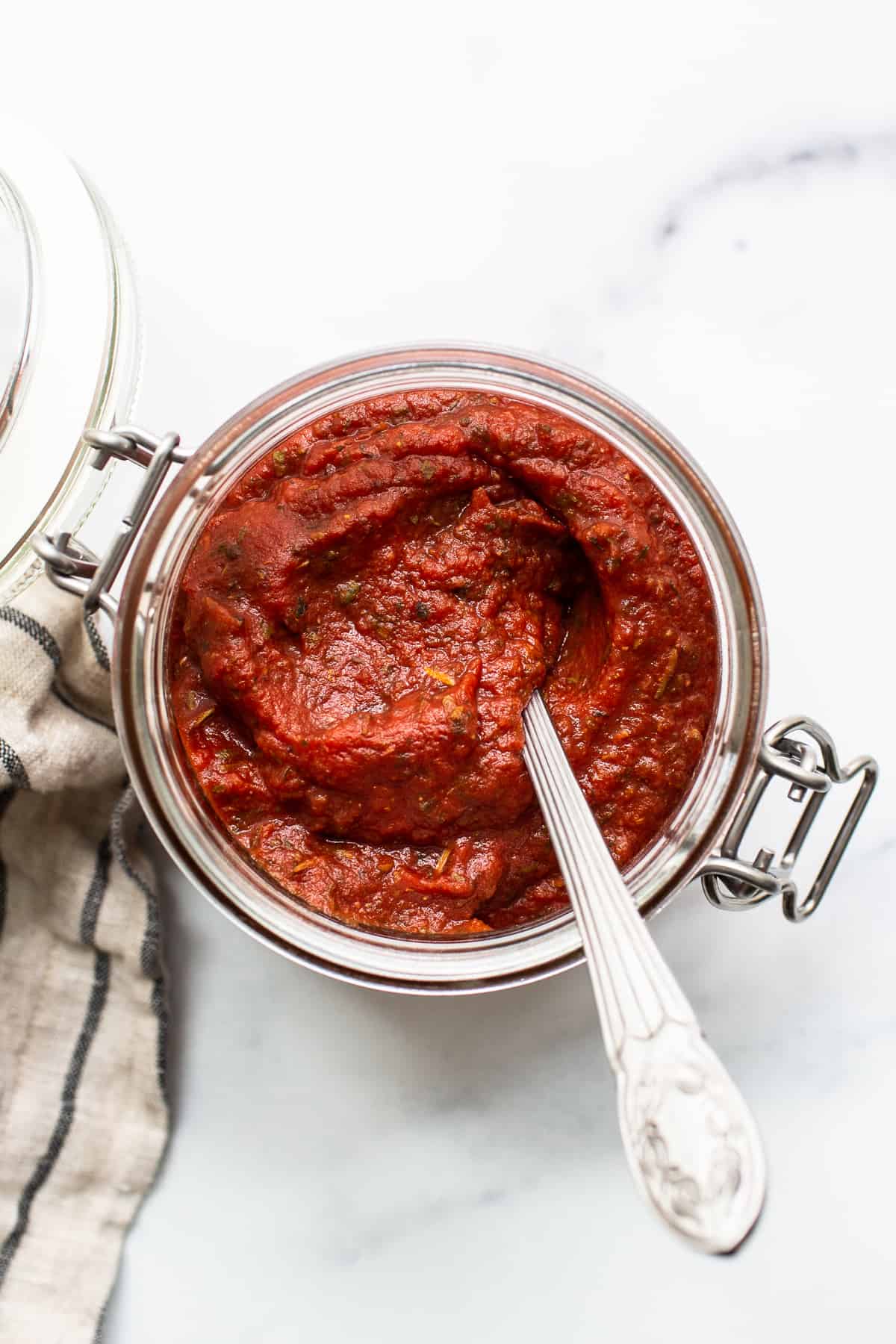 The BEST Homemade Pizza Sauce Recipe
Homemade pizza night just got better with this 4-ingredient homemade pizza sauce! Just grab a few pantry staples, whip up this classic red sauce, and place it on your favorite pizza, pasta, OR even make it a dipping sauce. The sky is truly the limit.
Our homemade version has a fresher, more vibrant taste compared to your average store-bought sauce, making it the BEST pizza sauce recipe you'll ever make in 5 minutes. You've gotta try it!
Why you'll love this sauce!
Quick & easy: you only need one pot and a wooden spoon to whip up this easy pizza sauce recipe! Have it ready in just 5 minutes.
Basic ingredients: it takes just 4 simple ingredients to make this classic pizza sauce. It can't get any easier than that!
Make-ahead friendly: make a triple batch of this homemade pizza sauce so you have it ready to go for any weeknight dinner.
Many uses: this pizza sauce isn't limited to pizza alone! Add it to any of your favorite tomato-based dishes!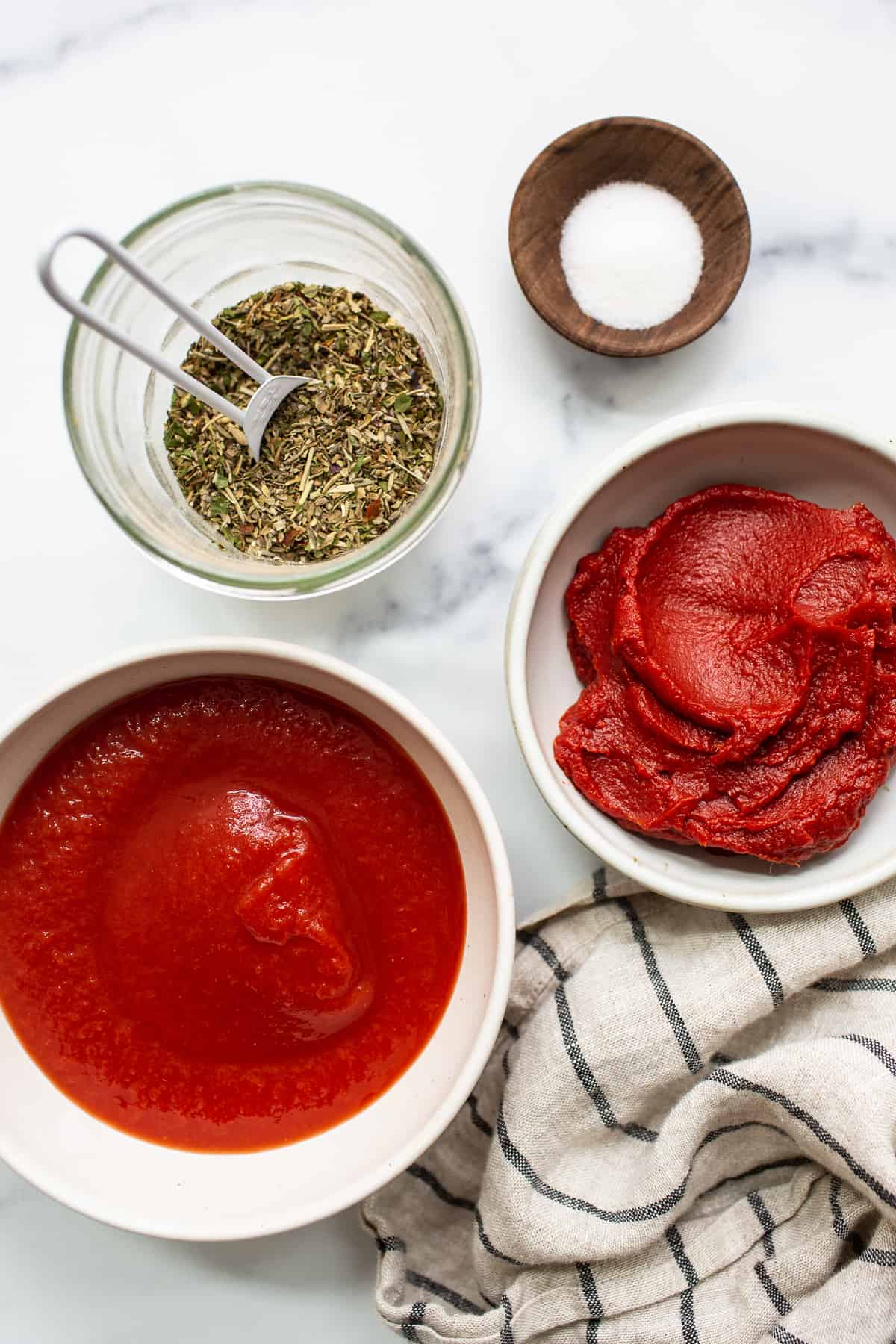 What is Pizza Sauce?
Pizza sauce is a tomato-based sauce that is usually poured on pizza dough before baking. It's made of simple ingredients such as tomato sauce or pureed tomatoes, tomato paste, and optional herbs and spices.
Pizza Sauce vs. Pasta Sauce
The main difference between pizza sauce and pasta sauce is that pizza sauce is prepared with uncooked tomatoes, while pasta sauce is made with cooked tomatoes and a blend of garlic, herbs, and spices. Although they use similar ingredients, pizza sauce has a thicker consistency.
Homemade Pizza Sauce Ingredients
Tomato sauce: acts as the essential base of this pizza sauce and provides great tomato flavor. We recommend using San Marzano Tomatoes for the best results!
Tomato paste: tomato paste is like a tomato concentrate. It adds lots of flavor and also helps thicken this sauce.
Italian seasoning: you can't have an Italian pizza sauce without Italian seasoning! It ties everything all together for a tasty, well-rounded flavor.
Sugar: sugar deepens the sauce's flavor while also cutting down on the acidity of the tomatoes without making the sauce too sweet.
Can I use fresh tomatoes instead? Yes! Just keep in mind that the juicer the tomato, the longer it will take to cook down and thicken the sauce.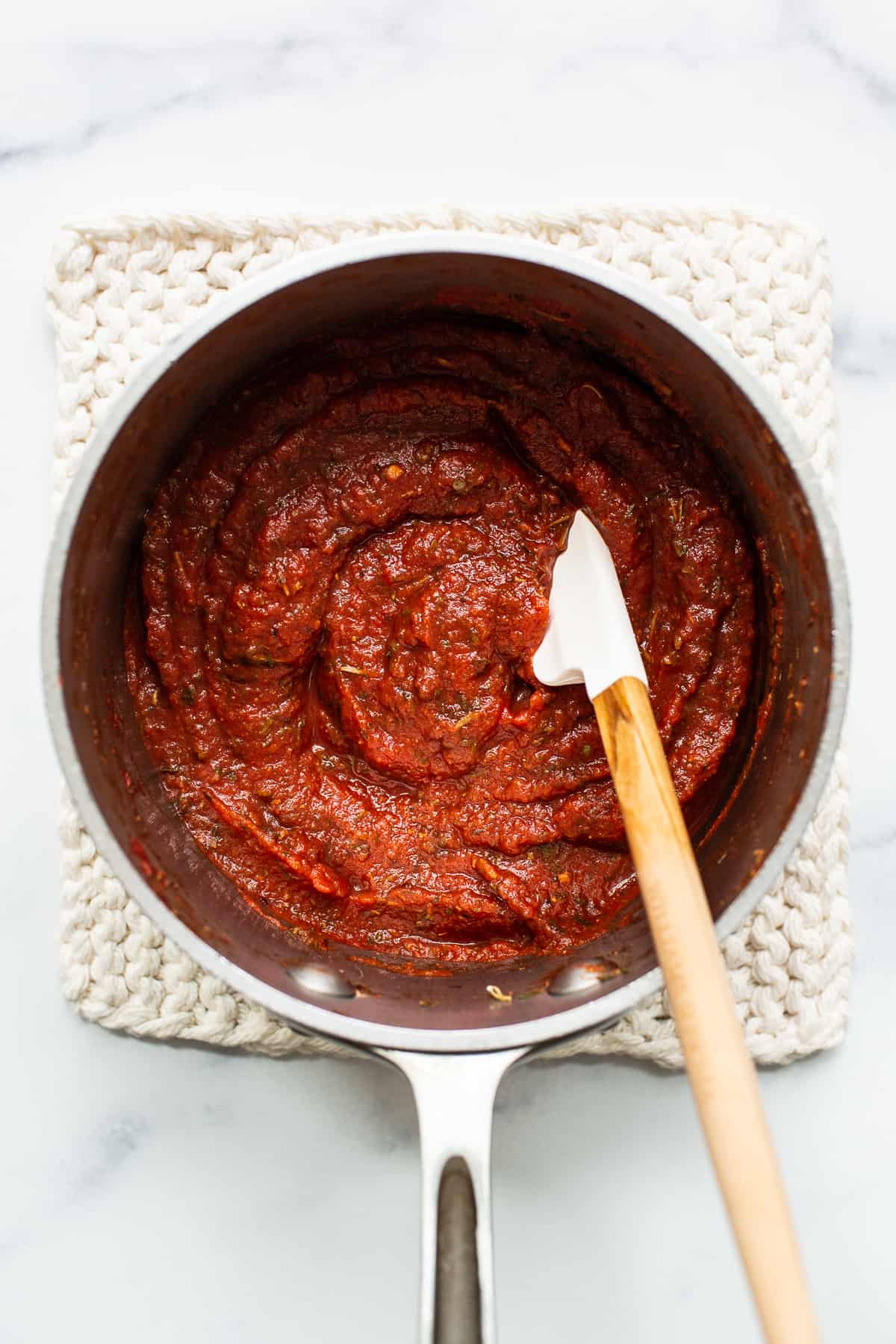 Best Fresh Tomatoes for Homemade Pizza Sauce
To make homemade pizza sauce, you can technically use any kind of tomato you have on hand. However, we recommend using plum tomatoes because they are specifically grown for making tomato sauces, providing the best results.
How to Make Homemade Pizza Sauce
This easy homemade pizza sauce recipe is made in as little as two simple steps. It's so simple, you won't want to spend more for store-bought pizza sauce again!
COOK SAUCE
In a small saucepan, add the tomato sauce, tomato paste, Italian seasoning, and sugar. Whisk to combine.
Once combined, bring the sauce to a boil over medium-high heat. Then reduce the heat to medium, allowing it to simmer for 5 minutes.
SERVE + ENJOY
Remove your saucepan from the heat and serve as a topping on French bread pizza, pasta, or any tomato-based dish. Enjoy!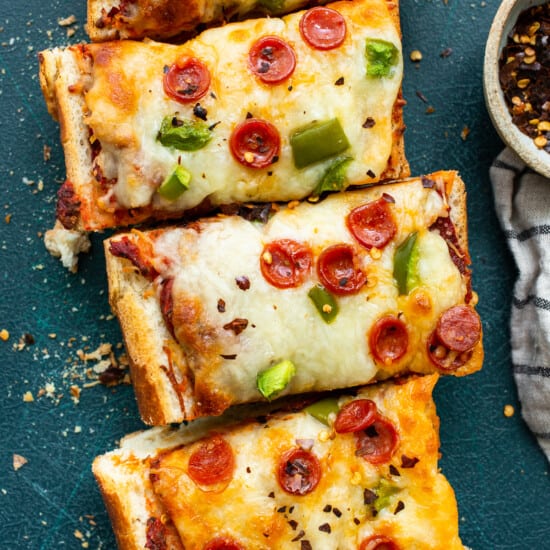 try it!
French Bread Pizza
Use this homemade pizza sauce on our amazing French bread pizza. The whole family will love it!
get recipe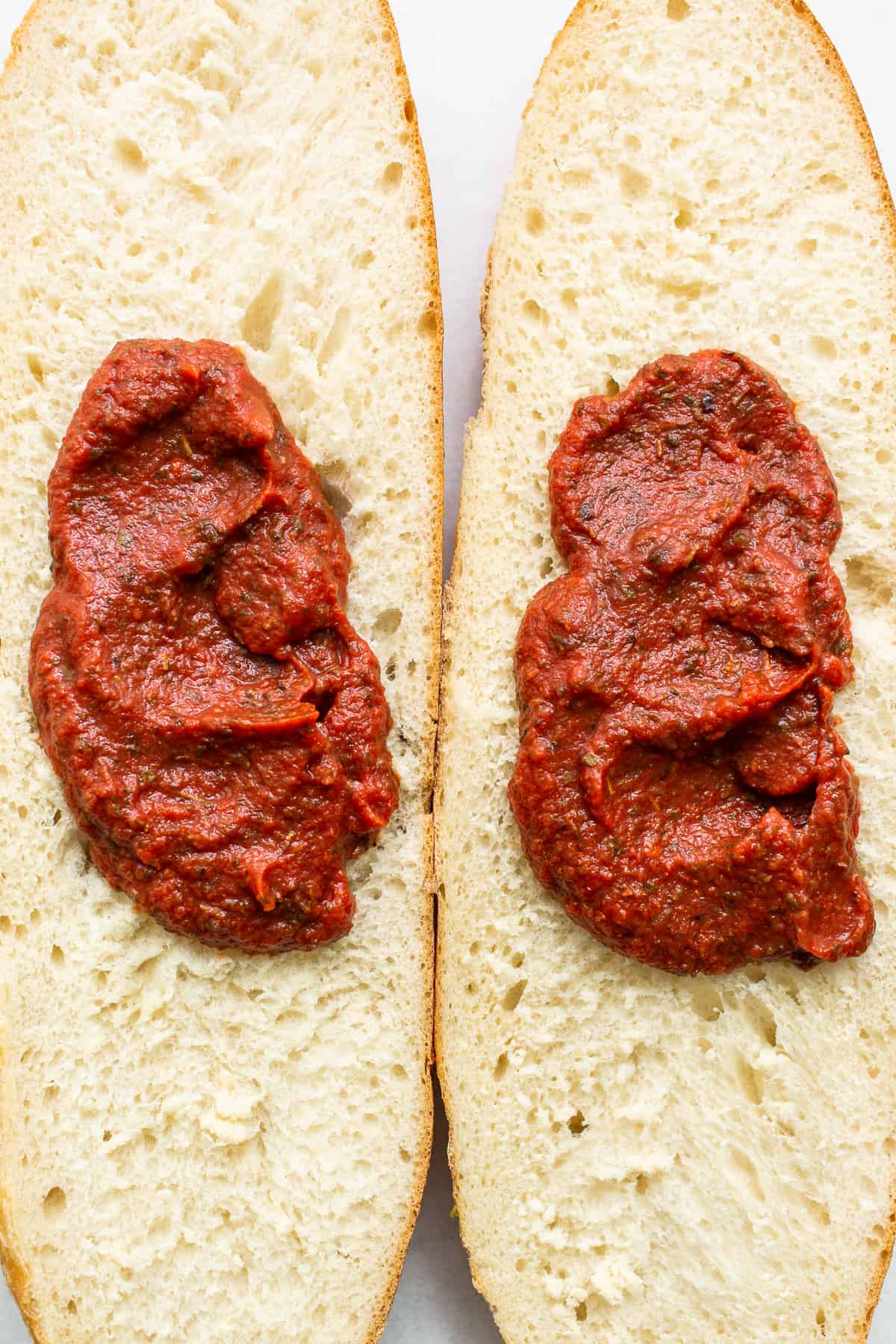 Flavor Variations
Make it spicy: add 1/2 teaspoon of red pepper flakes to give your pizza sauce a kick of heat.
Make it fresh: instead of using canned tomato sauce and tomato paste, make your own crushed tomatoes by pulsing them with some water in a food processor. Then, use fresh herbs such as fresh basil and fresh parsley.
Make it low-carb: replace sugar with balsamic vinegar for a healthier, keto-friendly alternative to this pizza sauce. Balsamic has a subtle sweetness that'll taste just as good.
Ways to Use Pizza Sauce
Pizza: the most obvious way to use your pizza sauce is on a pizza, of course! Try it on our delicious cast iron pizza or our French bread pizza.
Bloody Mary: Pizza sauce tastes great in a bloody mary! Add as much as you'd like, along with (or replacing) V8 or tomato juice to taste. Just make sure your sauce is nice and smooth for the best consistency.
Pulled Pork: Try our Instant Pot pulled pork recipe! Instead of using store-bought BBQ sauce, make a homemade sauce by replacing ketchup with pizza sauce.
Beef Chili: Pizza sauce is a great substitute for other tomato-based ingredients in chili. It works wonderfully in our 5-star beef chili!
Pasta: Pasta sauce is just cooked pizza sauce, making it great on our 30-minute sausage pizza pasta, whipped ricotta pasta, and crockpot lasagna.
Salsa: When it comes down to it, salsa is just a spicy tomato sauce. Replace the tomatoes in our homemade salsa recipe with pizza sauce, and you're good to go!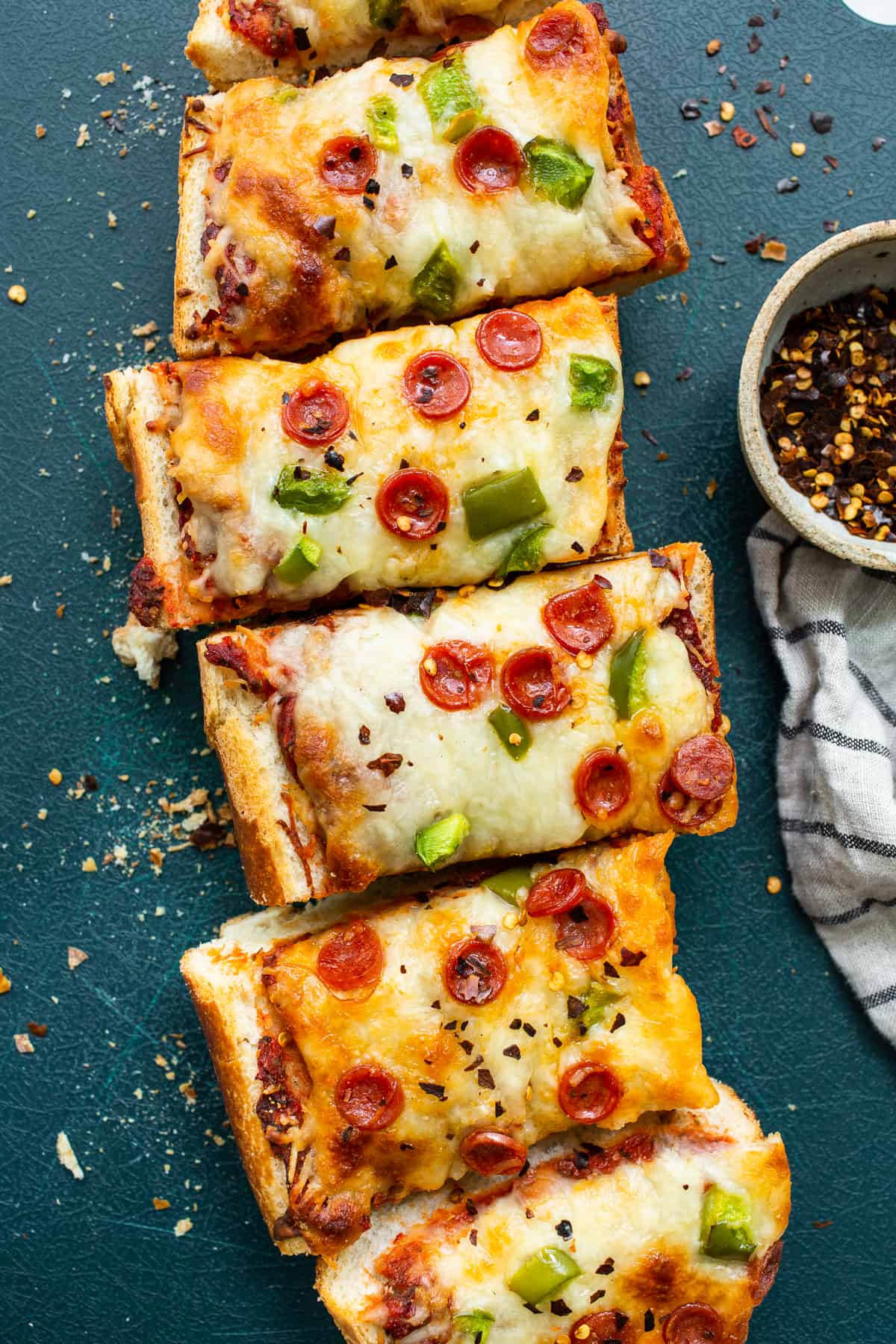 Storage
Store leftover pizza sauce in an airtight container in the fridge for up to 7 days.
Freezer Directions
Allow your pizza sauce to cool completely. Then, transfer it to a gallon-size Ziploc bag or freezer-safe container, removing as much air as possible. Seal and freeze for up to 3 months.