Homemade turkey stock is so easy to make. This recipe is excellent for using up a turkey carcass around the holidays and leftover vegetables. Use the stock as a base for soups or freeze it for later.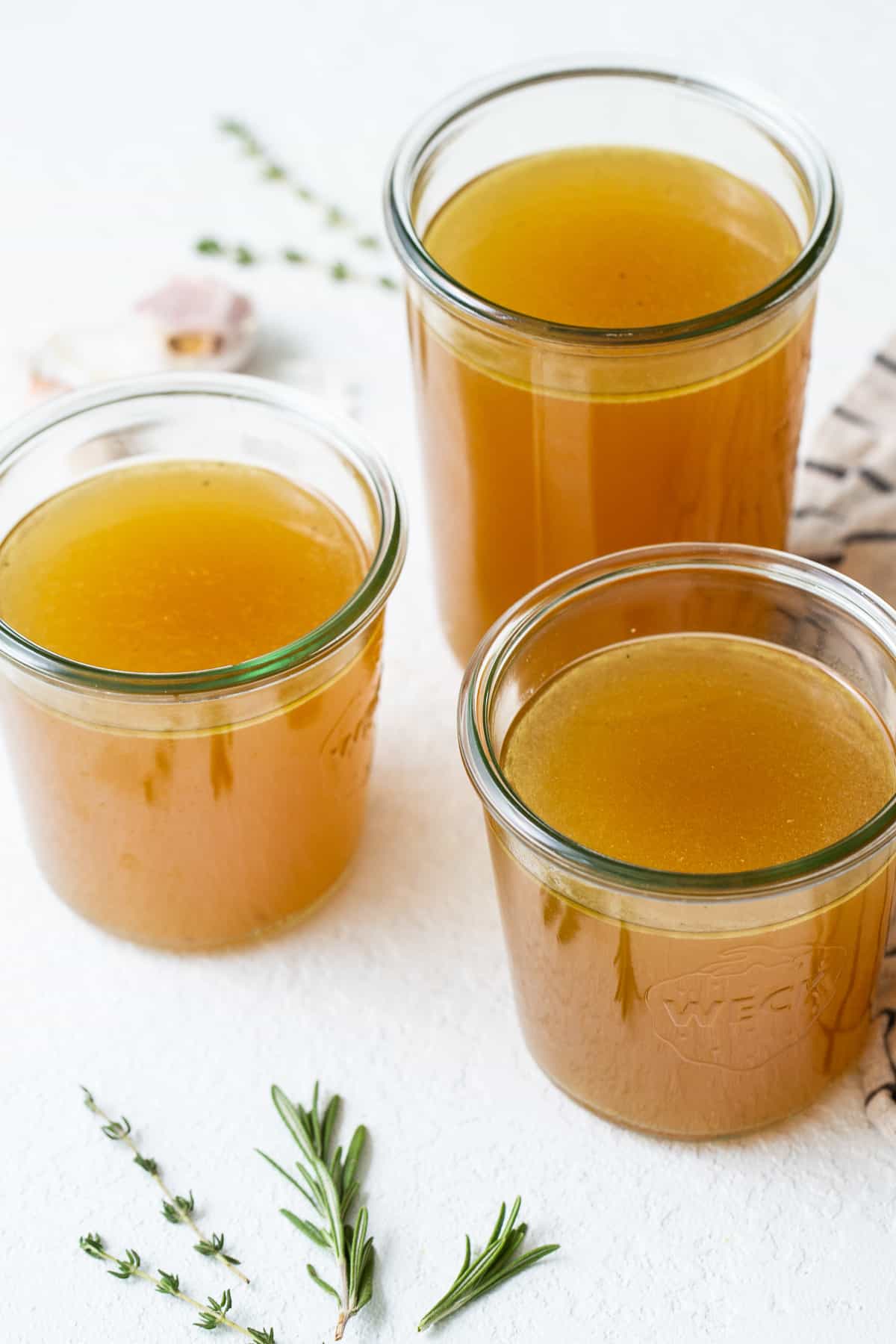 Easy Homemade Turkey Stock
There is no question that homemade stock or homemade broth is always more flavorful than store-bought. This turkey stock is made with a leftover turkey carcass (just bones and leftover meat. Think post-thanksgiving) and leftover vegetables.
You simmer all the ingredients together to create a delicious stock.
Why you'll love it!
Reasons why you'll love it.
It's a great way to reduce waste and use pieces of vegetables that you haven't used as well as turkey bones and scraps.
This stock makes the perfect base for soup like leftover turkey soup or any soup, really!
All you have to do is throw all of the ingredients in a slow cooker, cover them in water, set it, and forget it.
Featured Ingredients
Turkey carcass: the idea for this recipe is that you can use the turkey carcass after cooking a whole turkey. However, you can use bits and pieces of meat or carcass pieces that you have frozen over a period of time.
Your turkey pieces can include (but are not limited to) the whole turkey carcass, turkey wings, turkey legs, skin, and leftover pieces of turkey.
If you don't have a turkey carcass, this recipe would also work with a chicken carcass from roasting a whole chicken.
Vegetables: we used classic broth or stock, carrots, celery, and onion. However, this is a great opportunity to use bits of vegetables that you would usually throw away or that you've frozen for later.
Fresh Herbs: a mixture of fresh thyme, rosemary, thyme, or sage adds so much to any stock or broth.
Salt: adding this as a featured ingredient because a bland stock is the worst. Be sure you adequately salt your stock. Add some salt before you cook and after to make sure you are supporting all of the delicious ingredients in your stock with salt.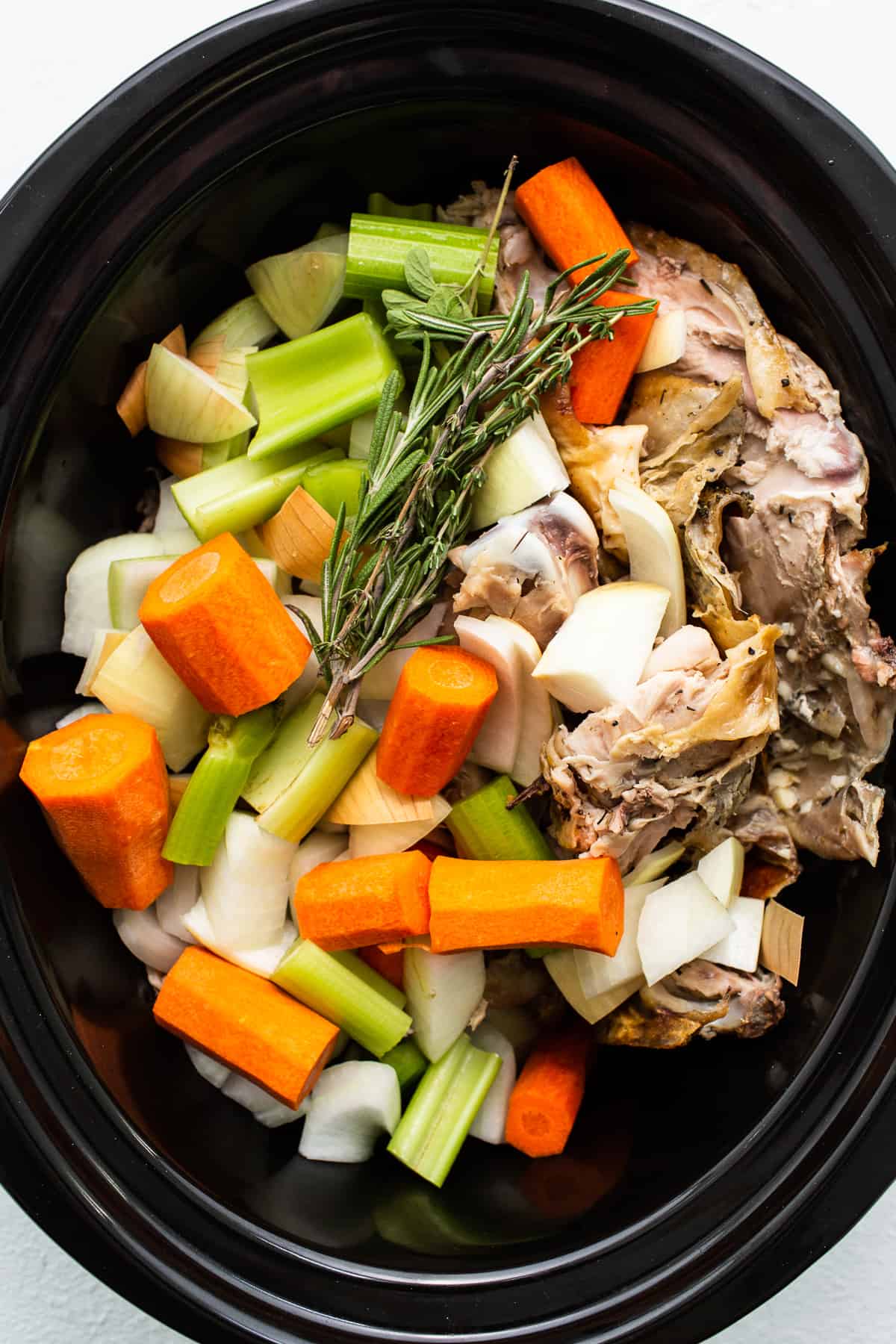 How to Make Turkey Stock
Take leftover turkey bones and meat and transfer them to a slow cooker along with the carrots, celery, garlic, and onion. You can add any other vegetables to the slow cooker at this point as well.
Cover the ingredients with water and cover. Set the slow cooker to cook on low for 8-12 hours.
When the stock is done, carefully place a strainer over a large bowl and pour the stock and ingredients into the strainer. Lift the strainer and allow the stock to drip into the bowl.
Use the stalk immediately or let the stock cool and freeze it for later.
Latest Turkey Recipes
More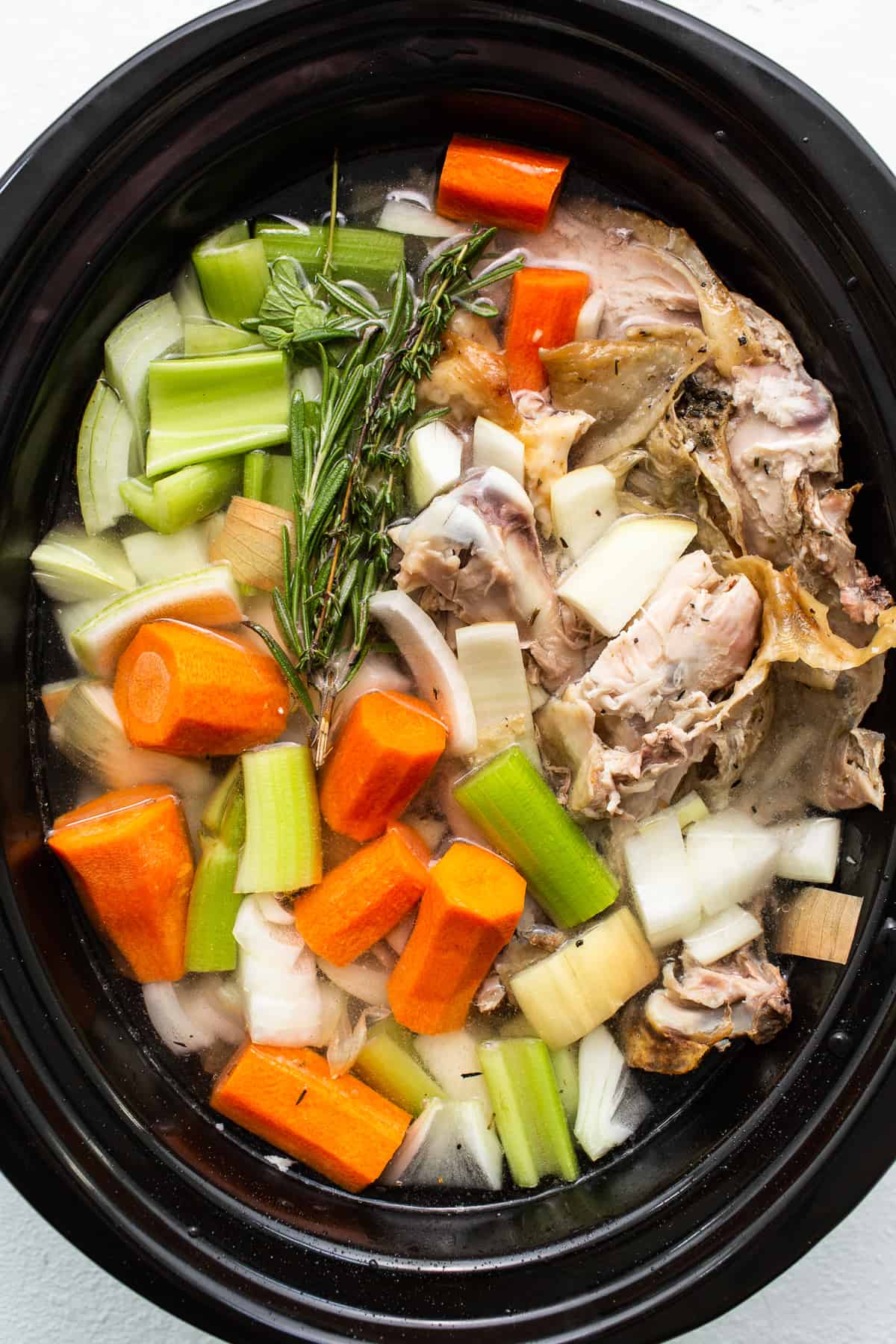 Top Tips
The more vegetables, the better. A wider range of vegetables used will create a delicious depth of flavor to your stock.
Make a big batch. Don't worry about making too much stock. It is a great way to store up stock for a rainy day in the freezer.
Get creative. Feel free to play with the flavors and spice levels by adding different dried spices or spicy peppers to give your stock a kick.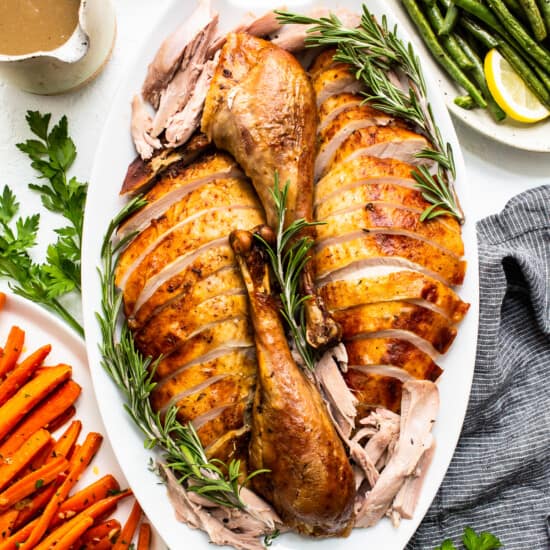 whole
Thanksgiving Turkey
This is the best Thanksgiving turkey recipe out there. Roast your turkey, make a homemade gravy, and you are all set.
Make It
FAQ
What is turkey broth good for?
Turkey broth or stock is great for so many things. Use it as a base for soups, and casseroles, or sip on it when you are sick.
Is turkey stock the same as broth?
Turkey stock is generally made with more bones as the broth is made with more vegetables. They are very similar and can usually be used interchangeably.
Is it healthy to drink turkey broth?
Yes,k turkey broth is a great way to consume calories, vitamins, and more when you are feeling sick or if you need something warm on a cold day.
Storage
Let this stock cool completely before storing it in an airtight container in the refrigerator for up to 5 days.
Freezing instructions
Let this stock cool completely and then transfer it to a freezer-safe container. Freeze it for up to 3 months.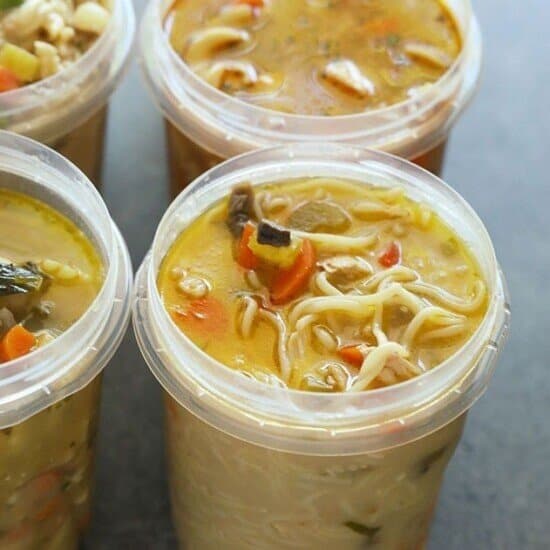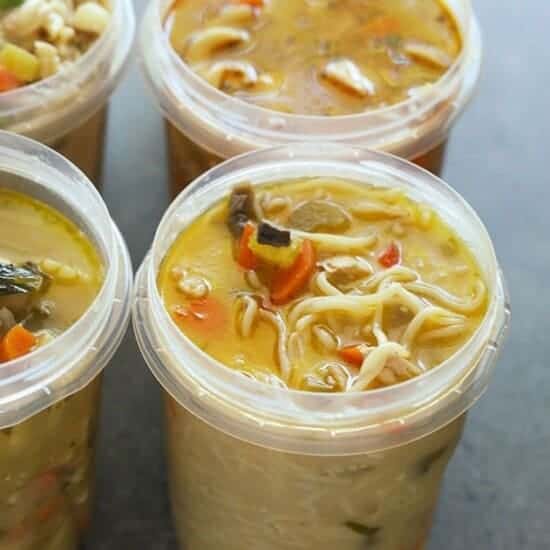 Tutorial
How to Freeze Soup & Chili
Learn how to freeze soup and chili with this easy How to Freeze Soup tutorial. We'll share all of our tips and tricks to perfect freezer soup.
Get Recipe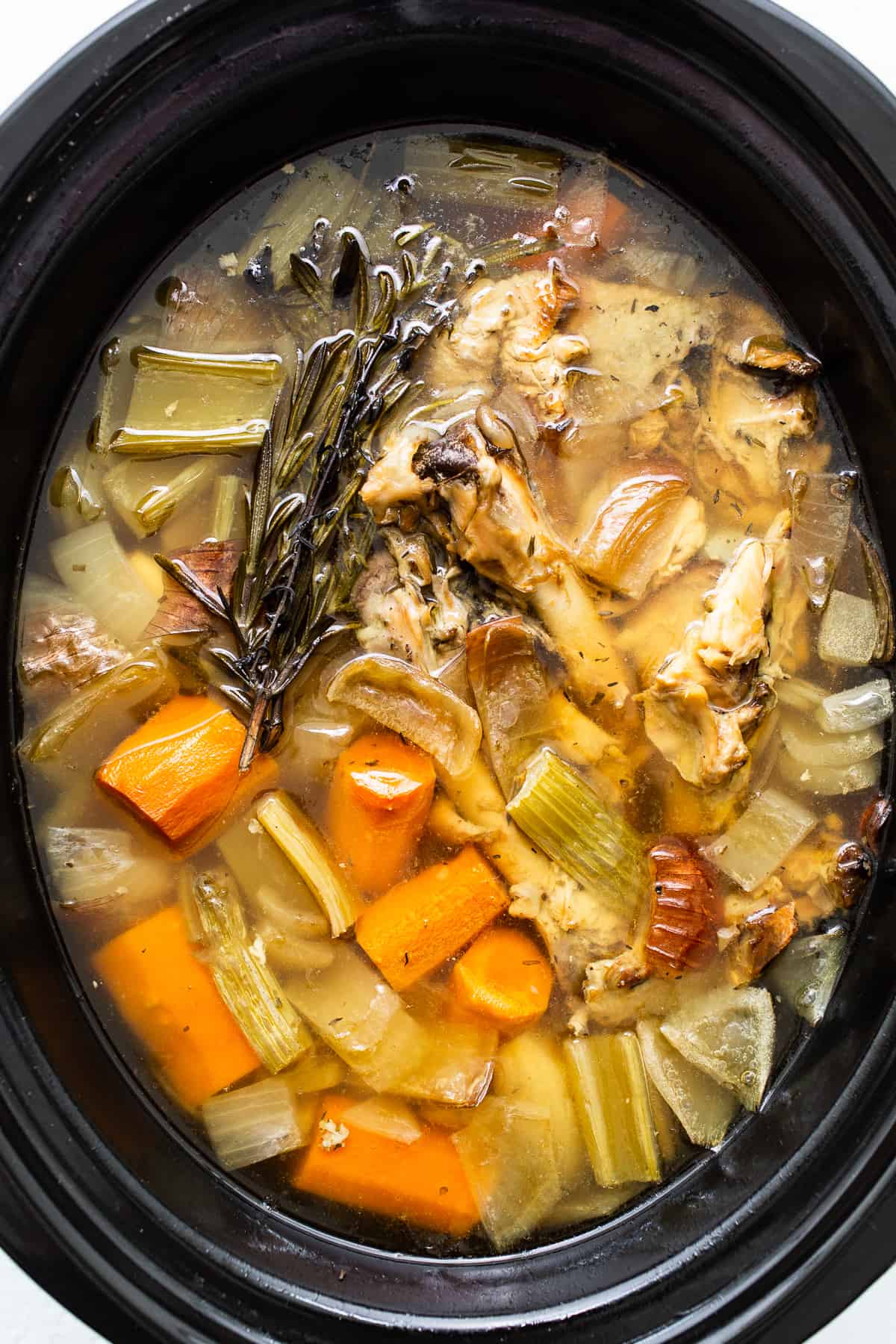 Photography: photos taken in this post are by Ashley McGlaughlin from The Edible Perspective.