These bacon wrapped dates with goat cheese are an easy appetizer everyone will enjoy! 3 ingredients, and made in under an hour.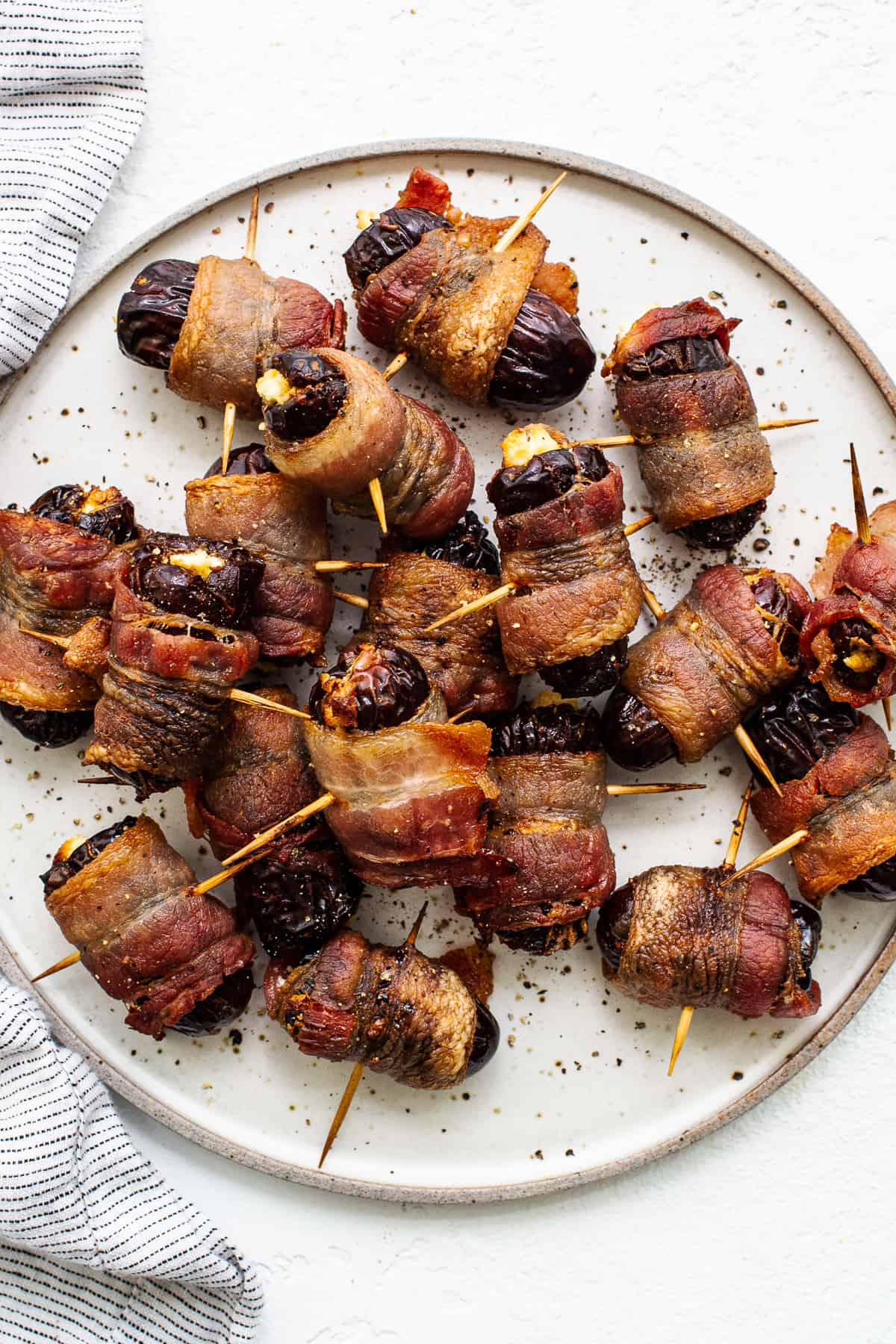 Best Appetizer Ever
Dear, bacon wrapped dates with goat cheese…will you marry me? This truly is the perfect appetizer — it's a little sweet, a little savory and ready to serve in under an hour.
Why you'll love 'em!
Fancy finger food: spear these bacon wrapped dates with toothpicks to keep the sliced bacon neatly wrapped, and make it easy for people to pick up.
3-ingredient: these bacon wrapped dates with goat cheese are just that! Bacon, dates and goat cheese — easy peasy!
Sweet & savory: we love a good app that is equal parts sweet and savory ?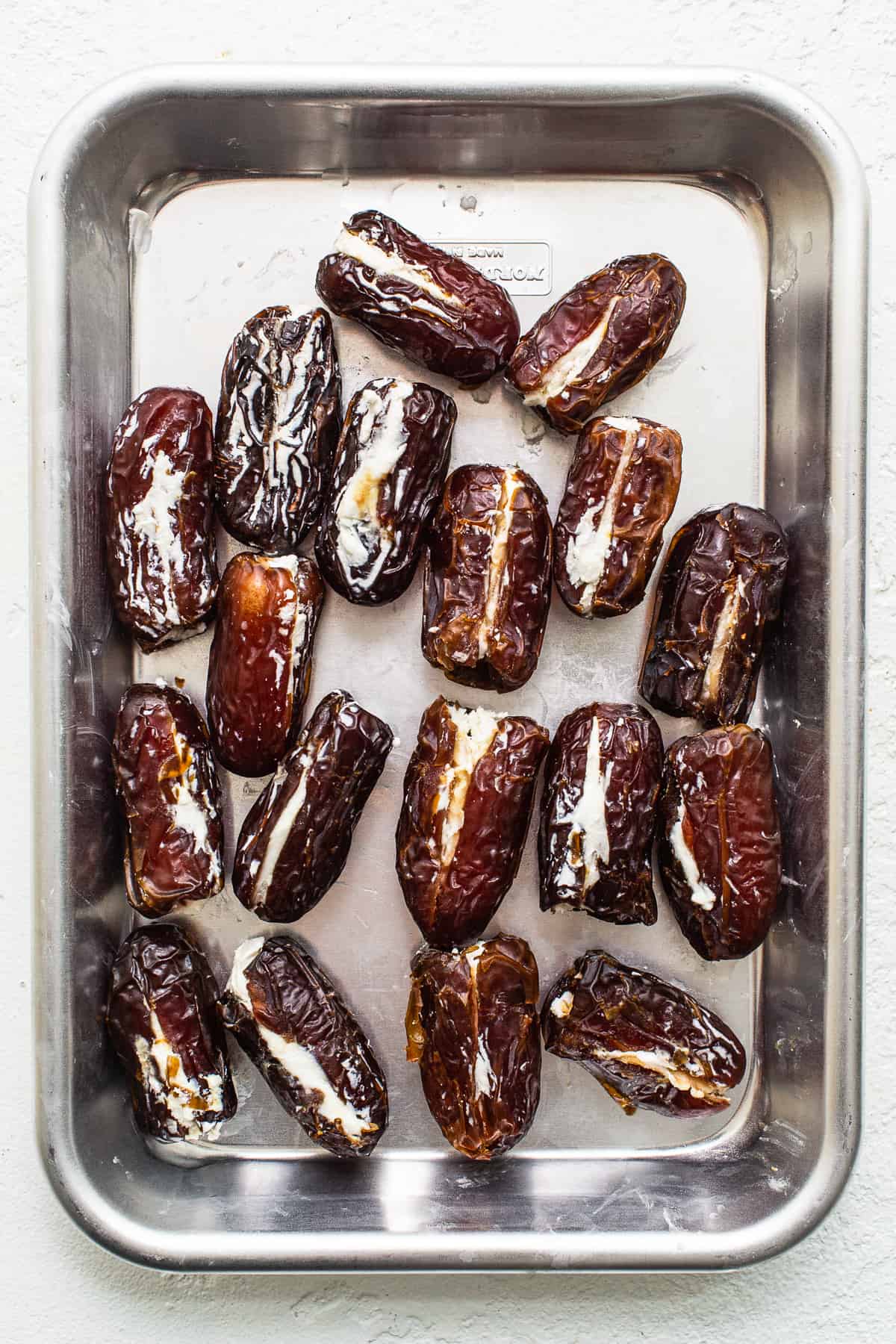 Why Medjool Dates
When it comes to bacon wrapped dates it's all about the date! We are obsessed with medjool dates. Why?
They are naturally sweet and delicious.
Medjool dates are always plump and full of flavor.
You can buy them in bulk at a great price!
Ingredients for Bacon Wrapped Dates
This recipe is pretty simple. We love it because it is the most perfect mixture between sweet and savory! You'll need:
Medjool Dates: We are big fans of medjool dates, but feel free to use whatever dates you have or are able to find. You just wand to make sure the dates are pitted and soft.
Here's a tip–> If your dates are a little hard, soak them in water for at least 30 minutes to soften them up. Soak up access moisture from the dates and proceed with the recipe.
Goat Cheese: A perfectly tart and soft goat cheese is what we're looking for to stuff the dates! If you are a honey or herbed goat cheese fan, go for it.
Bacon: There are many different options when it comes to bacon. We prefer a maple bacon, but an applewood bacon would be delicious, too.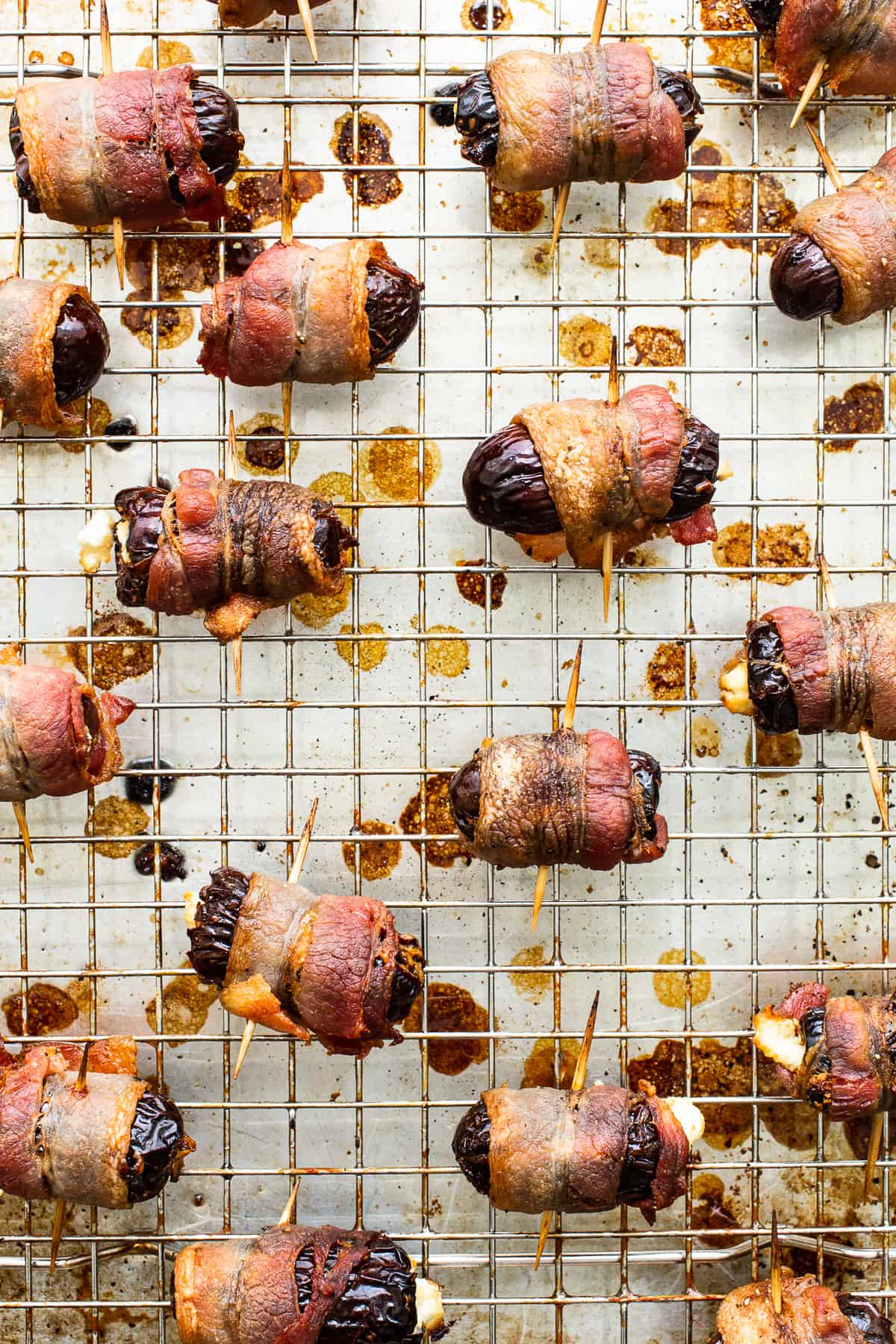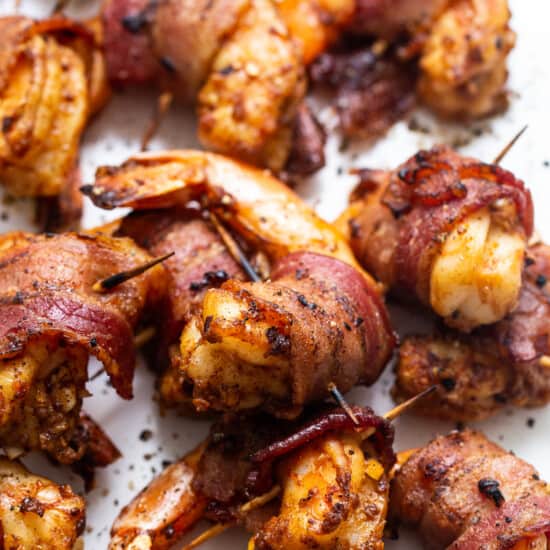 try it!
Bacon Wrapped Shrimp
If you love these bacon wrapped dates, you have to try our bacon wrapped shrimp recipe!
get recipe
Simple Instructions
Par-bake bacon
Preheat the oven to 400ºF and place a metal rack on top of a baking sheet. Place the bacon on the wire rack and season with freshly ground black pepper. Par-bake the bacon for 10 minutes in the oven. 
Stuff Dates
While the bacon is in the oven, stuff each date with goat cheese. The amount of goat cheese in the middle of each date will vary by the size of the date, but stuff about ½-1 teaspoon of goat cheese in the middle of each date. 
Wrap Dates with Bacon
Remove the bacon from the oven and let it rest for 5 minutes. Then, place a stuffed date at the end of a piece of bacon and carefully wrap the stuffed date with a piece of bacon. Stick the bacon and date with a toothpick and place it back on the wire rack.
Finish Baking Dates
Place the bacon wrapped dates back in the oven for 10-15 minutes or until the bacon is browned and fully cooked.
Let rest & Enjoy!
Remove the bacon wrapped dates from the oven and let the rest for 10 minutes before eating.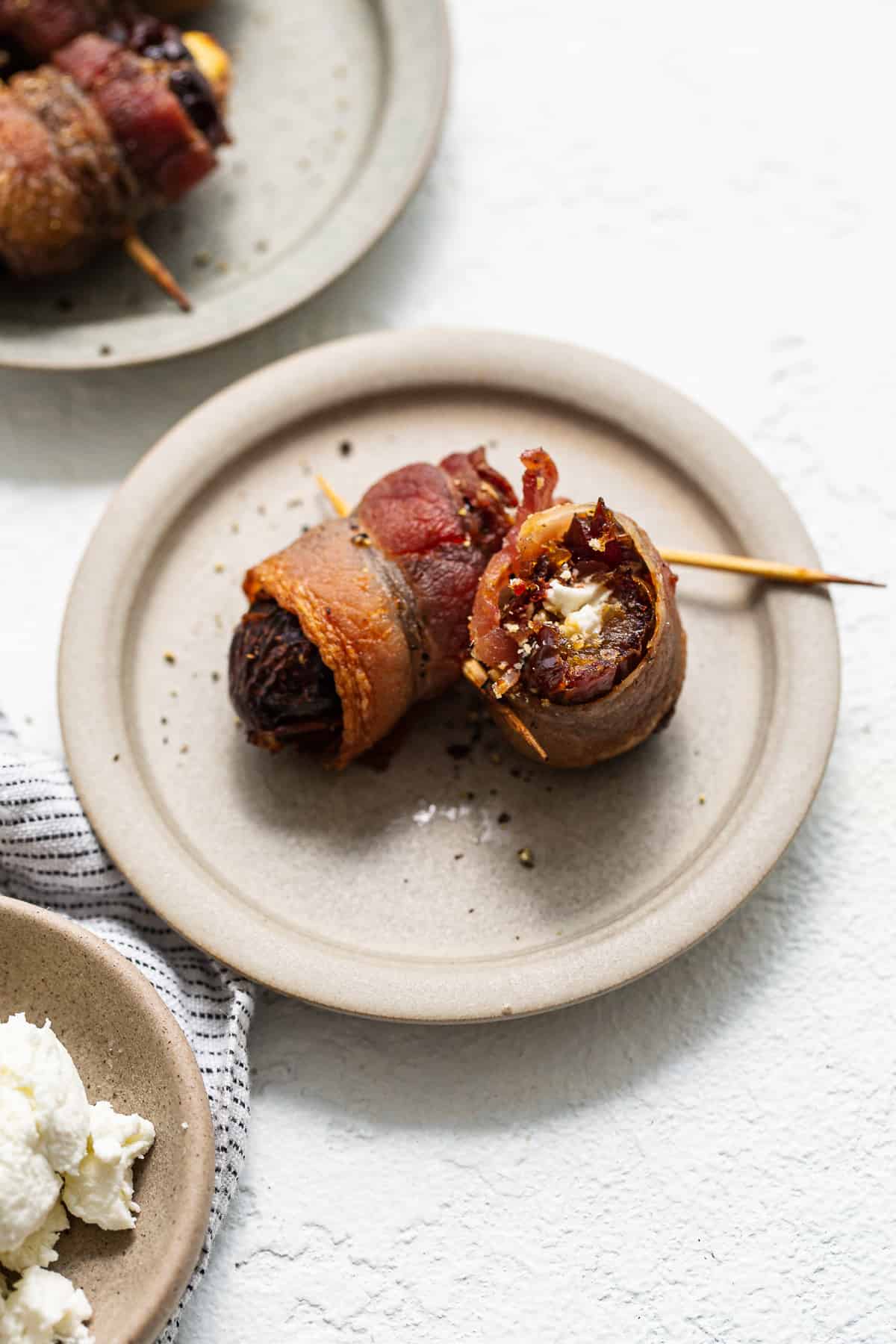 Why Cook Bacon First?
It's important to cook your bacon slices first because the dates and bacon have different cooking times. The goat cheese stuffed dates will take about 10 minutes to cook to perfection in the oven, while bacon takes 10-15 minutes.
That's why in our recipe, we cook the bacon a bit first before wrapping it around the dates. Otherwise, you'd have hard, overcooked dates or floppy, undercooked bacon, depending on your choice of cooking time.
Our #1 Tip
So, how do you get crispy bacon on the outside but super tender dates on the inside? Our #1 tip is a metal baking rack!
Placing the bacon wrapped dates on top of a rack allows the bacon grease to drip off the dates and onto the bottom of the baking sheet. Otherwise, the bacon would have difficulty crisping up if the dates sat in the grease.
First, line your baking sheet with tin foil (for easy cleanup), then place a metal baking rack on top!
Make-Ahead Bacon Wrapped Dates
Make your bacon wrapped dates ahead of time by prepping everything through step 3, and then store your partially prepared bacon wrapped dates in an air-tight container in the refrigerator for up to 2 days.
Then, all you need to do is the last step right before serving your yummy bacon wrapped dates: bake for 10 minutes at 400ºF, and serve!
Storage
To store your bacon wrapped dates, let them cool completely. Then, transfer to an airtight container and seal. Store in the refrigerator for up to 1-2 days.